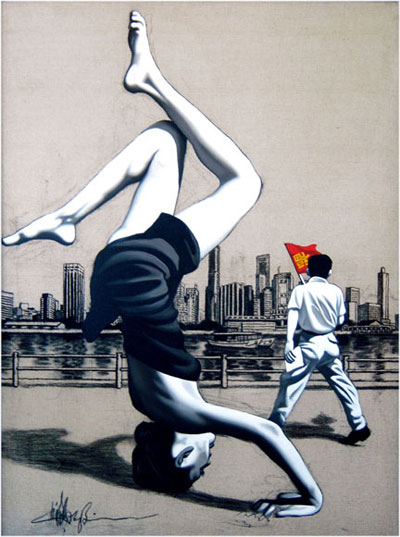 During the last (and free) day at the Denver Art Museum's
Embrace!
exhibition, Amanda and I stumbled upon a piece by Zhong Biao. As
an informative pdf from the exhibit
states, "Zhong Biao has captured the pulse of China's social reform through visual symbols familiar in contemporary Chinese culture." I don't know anything about that but what I do know is that this piece was incredible. Using sharply colored images overlaid atop grayscale-like drawings, Biao made me feel excited, angry, and that something was not quite right--and I was glad to have it pointed out. Biao is who I'd commission if I wanted a Chinese version of Dick and Jane at the Power Plant.
Other pieces that I'm afraid to post for fear of getting into copyright trouble:
1
2
3
Really amazing stuff.